The name "Old Hickory"
The name "Old Hickory" was derived from the first infantry division that moved into the Netherlands, this was during the deliberation of our country in 1944. This took place in Eijsden, Limburg, the south of Holland. This is where Max his civil-law notary's office was established. Because of his interest in the deliberation, but particularly in the deliberators themselves, he came up with the name "Old Hickory" as our second kennel name. A name that was particularly meant for the American Staffordshire Terriers, which we wanted to keep and breed.
The veterans come to town
Every five years the "Old Hickory" veterans come to the town of Maastricht. As you can imagine, only a handful of these heroes are still alive. Our extraordinary interest in America was excited by the contact with these soldiers and we are therefore kindly disposed towards that country and the people living there. Because these heroes are aging, it is getting more and more difficult for them to come over from America. This is the reason why they have been invited to Maastricht in 1999 for the last time. We were proud that we have been part of that too.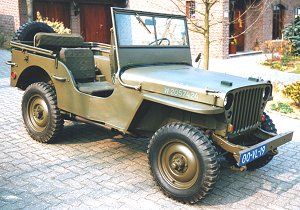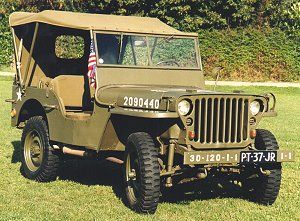 The Jeeps
Some of them took a seat in two of our American Jeeps which were completely restored and took part in the Old-Hickory Parade. The Ford-GPW, year of construction 1943, was driven by Max, and our Willy-Jeep was driven by Steffie. We are proud of having had the opportunity to experience this very emotional Old-Hickory happening for years. It goes without saying that one of our AmStaffs always drove along with Max or Steffie in each Jeep.
Old Hickory dogs and Old Hickory Jeeps, synonym for reliability!
Both our Am Staffs and our Jeeps, are inseparably connected with our kennel!
Why AmStaffs?
Purchasing Am Staffs just because they are American dogs? No!
We have very consciously chosen for this breed, because:
This breed is "close to nature" and it is a breed for which you don't need any subscription at a vet.
This breed is extraordinarily intelligent.
This breed is very watchful. More strongly expressed: They should really be taken serious.
This breed is extremely suitable for people who like challenges, but do not want to make any concessions to their environment if it concerns the question or comments like "Does this sort of dog match your status?"
The AmStaff will be engraved in our hearts for ever even more and more, also because of the improper discrimination by the media and the Government(s), which is apparently allowed.
Built up with all American import
Our enthusiasm for this breed will be clear. And yet, we only refer to some items, because the enumeration would otherwise become too extensive.
Our kennel has completely been built up with American import dogs. This despite the fact that our first Am Staff was bought in the Netherlands. It was General Grand of Deôfol. You can see him further on at the Male dogs page, section Old Campaigners.
As far as the initial dogs themselves are concerned, I can refer you to the first part of the book "The American Staffordshire Terrier in the Netherlands", written by Wil de Veer, and to our Champions parade on this site. In the above-mentioned book you will find a description of our kennel and it clearly shows that we have chosen a totally different approach than the average kennel.
The result? Just judge for yourself after studying this site.
In the meantime Part 2 of this popular book has been published. Further on our website you can read about this book in more detail.
Self-evident
It is self-evident for our kennel that:
Line breeding is high on our list of priorities. This is no problem for us, as we have the best and greatest breeding and show potential of Europe.
Our breeding program is not merely composed through the computer, but in the first instance together with the best American and European breeders.
Each Am staff we breed with nowadays, is HD-tested and will not develop Ataxia.
Each Am Staff we breed with, has passed the aggression test successfully. In connection with this test we visit the town of Macon in France, where this test is taken, every year.
No single bitch will procreate more than three litters.
Each prospective buyer shall, at first instance, have to show "responsible dog ownership" to us at our home, in which references play a very important part to us.
Every year, for minimally a week, we visit the Regional and National Speciality in America, to familiarize ourselves with and to acquaint ourselves with the development of the breed in the mother country. We are proud to inform you that we, as the only breeders from outside America, have never missed this unique event, as long as we are operating in this "world".
Shall we proceed our enumeration? We think that this will be superfluous, because we only intended to give you a first impression about our Old Hickory kennel.