**Ally** xXx **Brody**
Quality & Joy
Out of this combination are Born the ladies; Bella, Dzaja, Jacky. And the tough cookies are: Vic, Taxi, Roy, Wolfje & Spartacus.
This litter will always have a special place in our heart.
Not only because of the quality, but the fact that we had the joy to spend due to the corona pandemic almost 3 months together.
And this 24/7.

**Gitana** xXx ***Brody**
4 little gems
It took us almost 4 years to be in the position to have this litter. We already had the pleasure to have a daughter of Gitana & Brody in our kennel, and therefore we were over the moon when we saw these little 4 gems being born.
We welcomed: Alexia, Luna, Vito and Sumo
Thanks to Luisma Benitez and Vicente Arrias Durrey
And a special thanks to Luisma Benitez, founder of the Rebel & Proud kennel to allow all this to happen.
As well an equal special thanks to Vicente Arrias Durrey, owner of Durrey Staffs, without your input this would only have been a dream.
And last but not least, thank you Borja, for allowing us to use Brody.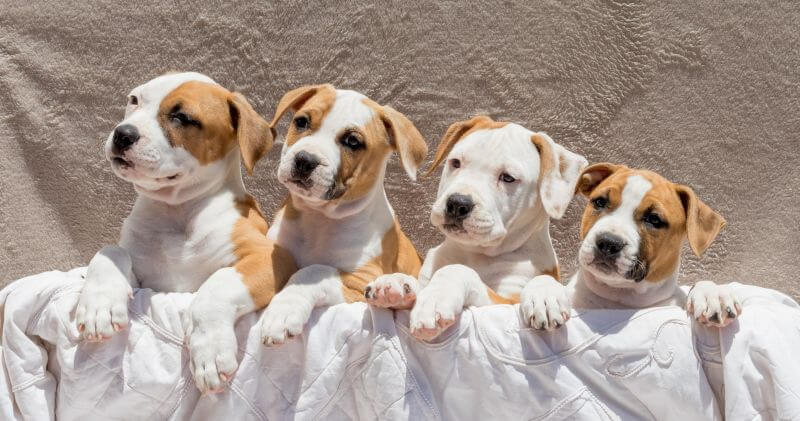 **Rose** xXx **Judas**
High homogeneity level
Out of this combination are born: Otis, Reina, Senna, Maya, Layla, Rosie en Rosco.
A combination characterized by a high level of homogeneity. Besides the beautiful structures of the pups, it was very clear to us that the parent dogs passed on their social and stable characters to their pups.
Thanks to Seniars kennel
We like to thank Edu and Betsaida from the **Seniars** kennel in Valencia for their help to realise yet another, more than brilliant, Old-Hickory generation