Sindy x Goan Combinatie
Puppies from Sindy & Goan were born on the 26th of December 2018.
We are delighted to have got 4 healthy babies: 2 sturdy boys and 2 beautiful girls.
Mother and pups are doing great at the moment!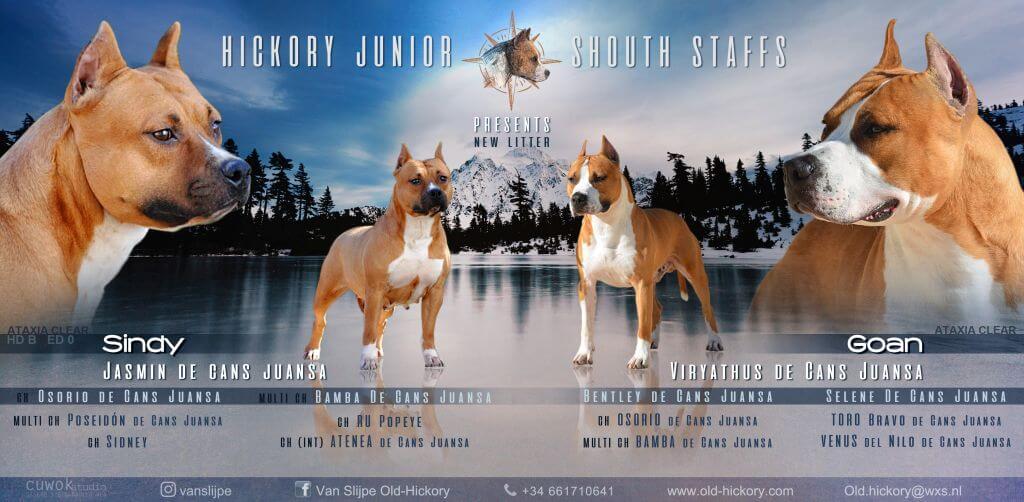 Back to the roots
Our expectations are high for this combination because it will be a follow up on last year's successful credo: "Back to the roots"
You can always contact us for detailed information.
Small-scale breeding program
Our plan is that we will have one or, at its maximum, two litters with puppies available each year. If you send us an email or contact us by telephone, we can tell you if we currently have puppy's available or we can inform you of the combination we have in mind for our next litter.
Medical information & pedigree
Nowadays all of our parent animals have been medically tested. Because of that none of our Old Hickory puppies will develop the disease Ataxia. As a further addition, the parent dogs will also be holding a MAG test certificate. Which means that the parent dogs are stable, reliable dogs.
The Old Hickory puppies will each receive a FCI pedigree as well as a European medical passport.
The young dogs will be treated against parasites at the age of 2, 4, 6 and 8 weeks.
At the age of 6 weeks, the puppies will get their first compulsory vaccination. The puppies grow up all together in a homely environment to optimally develop their social behaviour.
Responsible dogownership!
For our quality bred dogs, we require from you as a future owner "responsible dog ownership".
Expected future litter 2019
We hope to welcome our new litter in spring 2019, we will welcome a 6th Old-hickory generation.